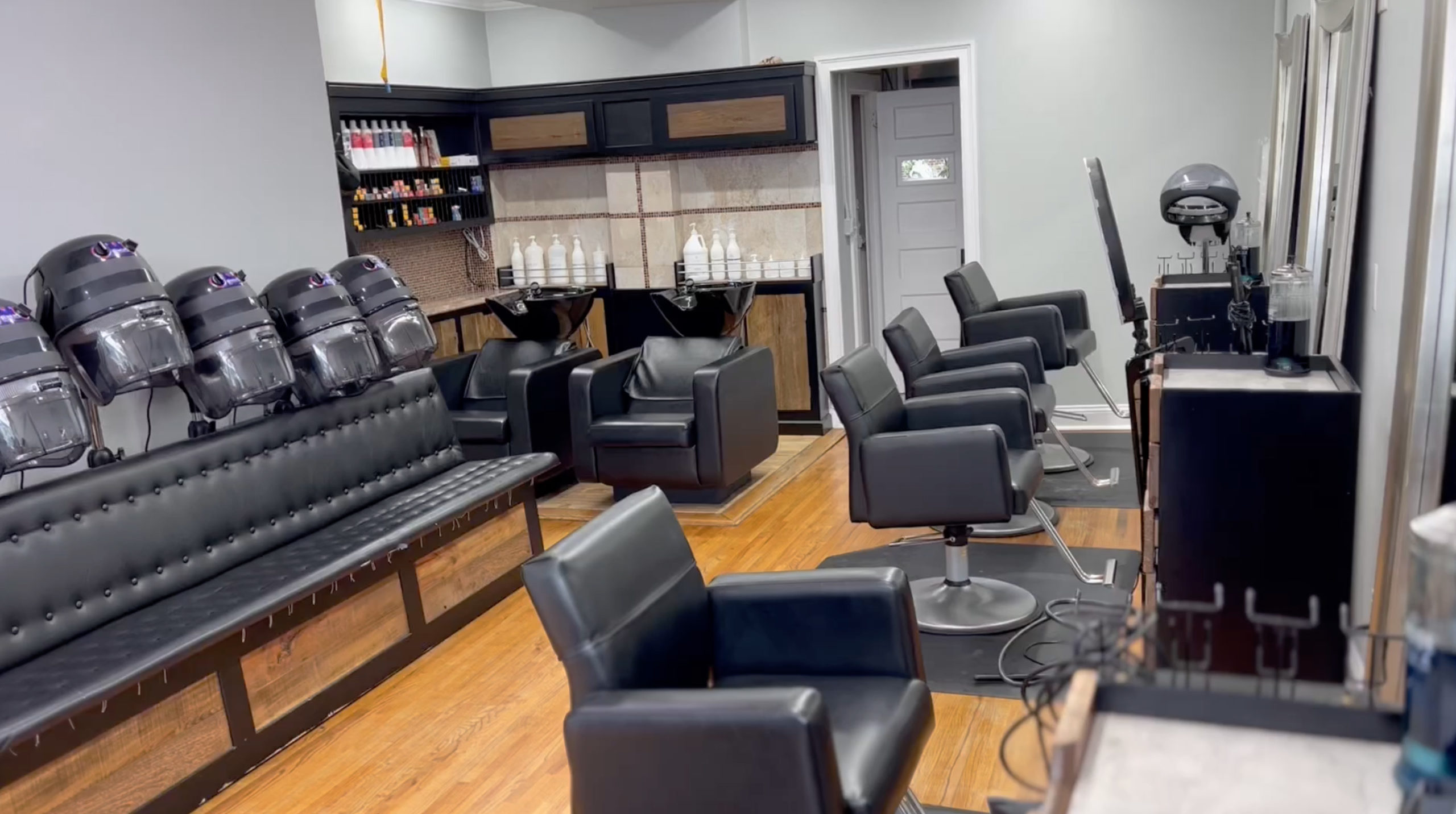 STUDIO 0912 TRESSES, MONTCLAIR 973.655.0125
Our studio takes pride in being a safe and professional space where we focus on nurturing and transforming hair through our unique signature styles and personalized attention. Everyone on our team shares a passion for their craft and is dedicated to delivering outstanding service within our vibrant and professional environment. Ensuring our clients leave feeling rejuvenated and completely satisfied is always at the forefront of our mission. We're here to make you look your absolute best and provide an experience that embodies our dedication.
Your First Visit
For your first extension or weave service with Shamilla, we want to ensure your hair stays healthy and vibrant. A trim and intense moisture treatment are mandatory steps to keep your tresses in the best condition while rocking your protective style. This extra care will help maintain the integrity of your natural hair and ensure you enjoy a fabulous and long-lasting look. If you have any questions or concerns about the process, feel free to ask!
What's Included
A mandatory shampoo is included in our services, so you don't need to worry about arriving with braided or unwashed hair. We'll take care of that for you, ensuring your hair is clean, fresh, and ready for the extension or weave service. If you have any specific preferences or questions about the shampoo process, feel free to let us know. Your satisfaction and comfort are our top priorities!
SALON GUESTS
As a business, we kindly request that only customers receiving services are allowed inside the salon. Due to limited space and to maintain a peaceful environment for all our clients, we cannot accommodate additional guests or children who are not being serviced. We appreciate your understanding and cooperation in helping us create a comfortable atmosphere for everyone. Thank you for choosing our salon for your beauty needs!e our top priorities!
YOUR BELONGINGS
As a business, we want to remind our valued customers that the salon is not responsible for any items left behind. We kindly ask you to be vigilant and keep track of your belongings during your visit to avoid any inconvenience. Please ensure you take your valuable items with you when you leave the salon. Our main focus is to provide you with excellent service, and we appreciate your cooperation in this matter. Thank you for choosing our salon for your beauty needs!
CUSTOMER SATISFACTION
Thank you for choosing our salon for your hair needs. Our hair policy aims to ensure you receive the best results possible. If your stylist advises you on the type of hair to bring in for your desired look, please follow their recommendation. Using the suggested hair helps us achieve the results you are looking for.
If you choose to bring in your preferred hair from elsewhere, we regretfully won't be able to provide the service, and you will lose your deposit. We suggest purchasing the recommended hair from the beauty stores we recommend to ensure a successful outcome.
Your satisfaction is essential to us, and we want you to leave our salon looking and feeling good. Thank you for your understanding and cooperation in following our hair policy. We look forward to serving you!
APPOINTMENT SCHEDULING
As a professional cosmetologist at The Shamila Experience, our rush policy is designed to ensure the best results for our clients. We kindly advise against booking appointments on the day of an important event or when you have time constraints, as our services like weave, extensions, haircuts, hair color, styling, and natural hair care require sufficient time to be performed effectively. To avoid any rush, we recommend scheduling your appointment ahead of time, allowing us to provide you with the exceptional service and attention you deserve. Your satisfaction is our priority!
DEPOSITS
As a professional hair stylist, I have a deposit policy in place to ensure efficient appointment scheduling. When booking a service, a nonrefundable deposit of $75 is required. This deposit will be deducted from the total service price. Please note that the deposit is non-transferable to other appointments.
You have the flexibility to change your appointment time and day within four hours of making the booking. However, after that period, the deposit becomes non-refundable and cannot be applied to a different appointment. This policy helps me maintain a well-organized schedule and provide the best service to all clients. Thank you for understanding and adhering to these guidelines.
CANCELLATIONS
As your cosmetologist, I have implemented a 48-hour cancellation policy to manage my schedule effectively. If you need to cancel your appointment 48 hours before the scheduled time, there will be no charge. However, cancellations made within 48 hours of the appointment will incur a $75 fee, which will be added to your next appointment visit. I appreciate your understanding, as this decision was necessary to maintain a well-organized schedule. If you have any questions or concerns, feel free to reach out. Thank you.
LATE
As an elite cosmetologist, I understand the importance of punctuality. I offer a 15-minute grace period for clients running late, so no worries there. However, if the delay exceeds 15 minutes, there will be a $50 late fee. If the delay surpasses 30 minutes, unfortunately, the appointment will be canceled. My aim is to provide the best service and maintain a smooth schedule for all clients.
NO-SHOWS
As a professional hair stylist, I kindly request that you understand and respect my no-show policy. If a client fails to show up for their scheduled appointment without prior notice, a fee equivalent to 100% of the booked service amount will be charged. No-shows have a significant impact on my schedule and business, and I appreciate your understanding of the importance of this policy to maintain a fair and efficient operation. Thank you for your cooperation.